Jewelry by Lady Unique
Name Me Set
Regular price
$135.00 USD
Regular price
Sale price
$135.00 USD
Unit price
per
Sale
Sold out
Gold plated nameplate attached to a all gold 14k gold filled beaded chain, with a matching all gold bangle flexi and a small pair of earrings-adult set will include a medium pair of earrings. Any name 9 letters or less.
Infant set will include extra bracelet instead of earrings 
14k gold filled handmade beaded jewelry with a "unique" design attached to a gold plated nameplate.
Material: Gold plated (nameplate)
Care instructions: provided with order please follow to prevent turning and tarnishing on the nameplate 
💜 Looking for a custom order feel free to email: jewelrybyladyunique@uniquebeads11.com
💜 Buy NOW Pay LATER options are also available
💜 Items ship via USPS
💜Processing time : 3/4 weeks 
Things to avoid:

It's best to not wear any gold plated/filled jewelry while entering a public pool, as these contain high levels of chlorine that can tarnish and damage the item. Especially the gold plated.
Gold plated/filled jewelry should also be removed before exercising, as constant exposure to salt and sweat can gradually damage the ornament. If forgotten no problem just wipe down ASAP.
It would also be a better idea to remove gold plated before applying creams, hairspray or lotions that contain a lot of chemicals. Gold filled needs to be removed when spraying any type of chemical.
Share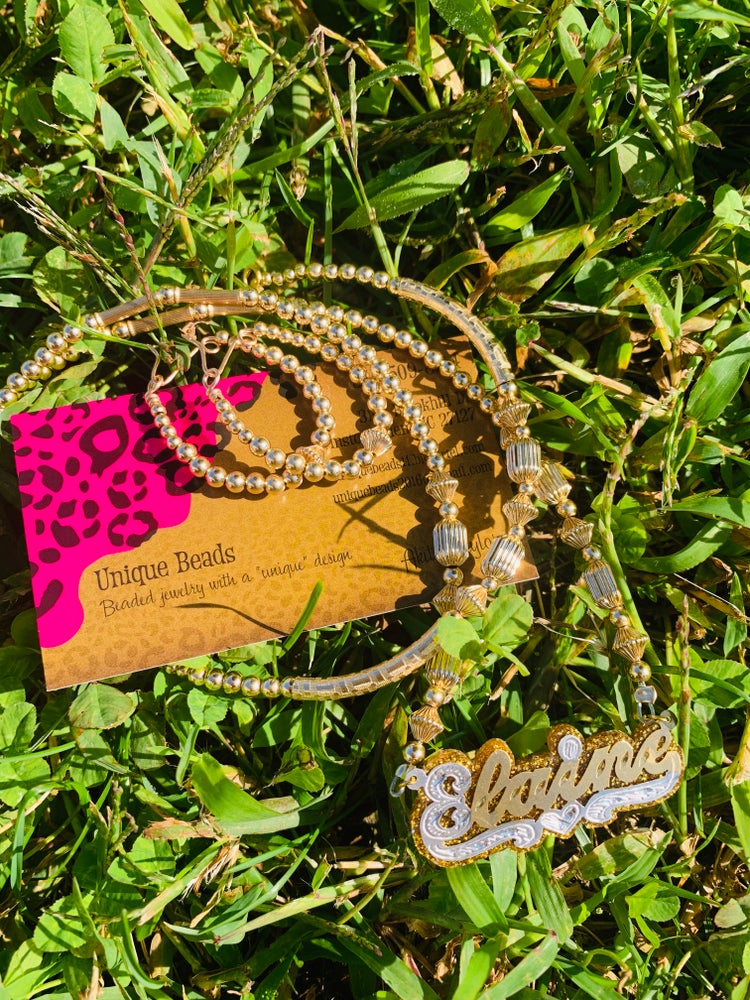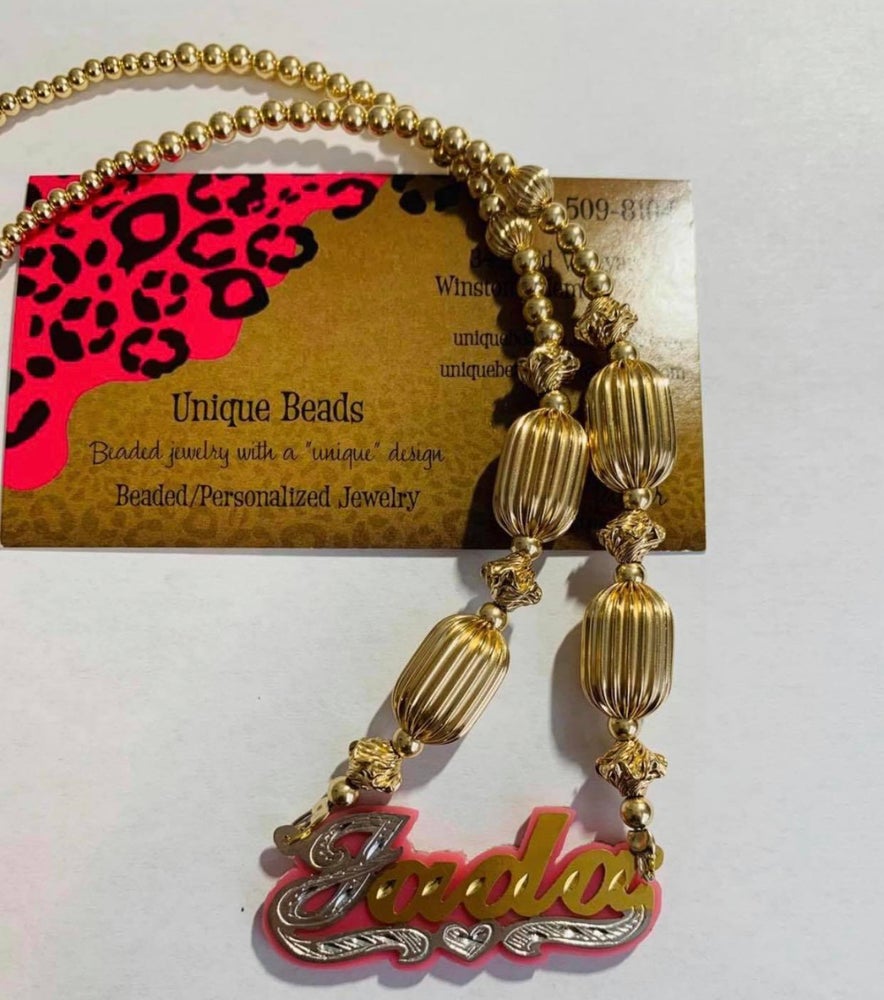 Mrs. E
That was my order from you around 2+ years ago. I wear my set all the time and I'm still getting compliments. It still looks brand new. Thank you so much. You are the best❤️
Awww thank you ladybug and NO YOU ARE THE BEST bc you support me.
Fast order and delivery, Thanks a lot I appreciate it so much!!! Y'all go order your jewelry by Lady Unique she's the best!!!
You are so welcome ladybug. I appreciate you more than you appreciate me
Name Me Set
I loveeeee my Name Me Set and my gold earrings. I'll be ordering from you again sooon. Thank you for making my beaded jewelry. 🫶🏽🫶🏽🫶🏽🫶🏽
That makes me smile. . You are very welcome sweetie it means alot.